Luxury Bathroom Remodeling
Luxury Bathroom Remodeling in
Olmsted Falls, OH
Remodel Me Today is one of only a handful of Cleveland companies that recognizes them as leaders in the luxury home building and home remodeling professional industries. Remodeling luxurious bathrooms is just one of our many areas of expertise. Remodel Me Today approaches each project with a meticulous eye for the details and a level of craftsmanship that does not accept compromise. As a result, the clients can expect an increase in both pleasure and the market value of their homes after bathroom remodeling.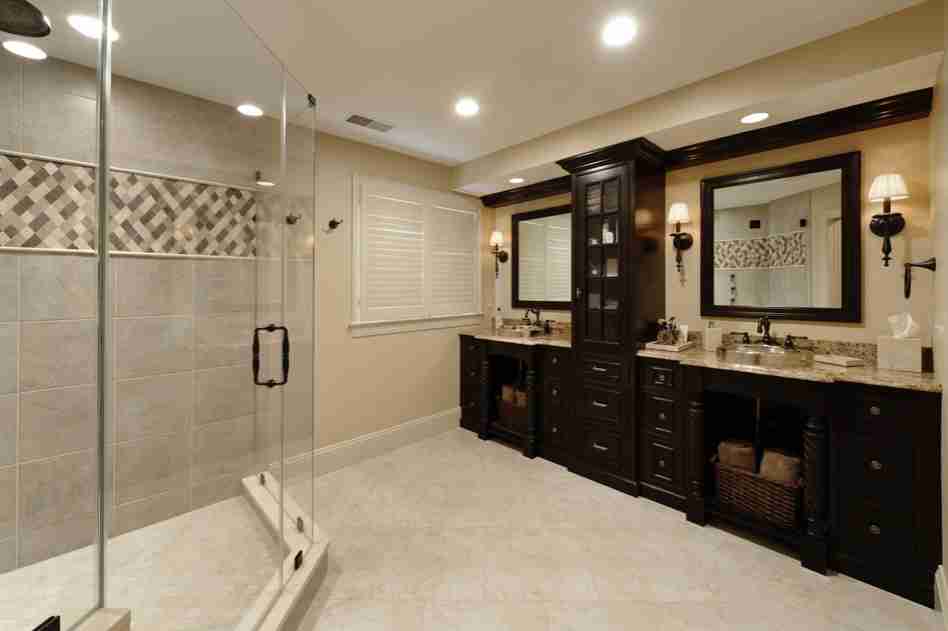 Although they are used for various purposes, people's bathrooms are their homes' most intimate and private rooms. These rooms are utilized daily by homeowners for a variety of purposes, including personal hygiene, personal time, and relaxation. Therefore, it makes perfect sense to have a bathroom that caters to the lifestyle and individual requirements of the customers. Because of their extensive experience and high standard of quality, Remodel Me Today has become the most reliable contractor in the field of bathroom remodeling.
BENEFITS
People spend time in their bathrooms daily. In addition to serving a functional purpose, these spaces can provide mental respite and physical relaxation. Bathroom remodeling can take many forms, from minimalistic and functional spaces to opulent and elegant rooms. Our designs reflect the homeowner's preferences and individual sense of style.
Renovating these rooms in their home can have several significant benefits, in addition to making their bathrooms more enjoyable, including the following:
Increasing the value of homes – point of fact, numerous bathroom remodeling projects increase the home's value to such an extent that they will more than pay for themselves. Therefore, prospective purchasers prefer properties that do not require a significant amount of updating when looking for a home to purchase.
Better functionality – Homeowners who take advantage of the bathroom remodeling service can enjoy a more efficient use of the space and see an improvement in how it functions. The new materials and projects have the potential to have a significant impact on safety without sacrificing the aesthetic value of the finished product.
Developing a private sanctuary – After a long and stressful day at work, homeowners should be able to come home to a luxurious bathroom. It is where they can relax and let go of the tensions of the day. Remodel Me Today is dedicated to the convenience and enjoyment of our customers' lifestyles.
Personalize Homes. Create Visions. Execute Projects with RMT's Solutions
Homeowners can reduce their water and energy bills by increasing their bathroom's efficiency during the remodeling process by installing the most recent technological advancements in lighting and fixtures in their existing bathrooms. These environmentally friendly initiatives are lovely for the planet and help preserve natural resources.
With the help of Remodel Me Today's skilled professionals, customers can bring their style to life by remodeling their bathrooms.
Your bathroom ought to be a tranquil space where you can relax. A haven in which you can take a soothing hot bath as you unwind from your day and prepare for a great nights sleep.
We have your back as the team at Remodel Me Today, comprised of the most reputable luxury bathroom remodeling contractors in Cleveland. We take great pride in being professional bathroom remodelers capable of making your bathroom look like a paradise regardless of size.
To ensure that you are satisfied and happy with the results of the transformation of your bathroom, we use only high-quality materials and equipment. As a result, we can make dozens of improvements to your bathroom to turn it into the space of your dreams. Some of these improvements include remodeling the shower and upgrading the sink. So, after the magic touch of Remodel Me Today, there won't be a single uninteresting moment spent in your new bathing area!
Our business takes great pride in its extensive portfolio, including luxury bathroom remodeling, expansions, and renovations in Cleveland. Our crews have the necessary experience, expertise, and training to remodel bathroom spaces.
We protect our clients' interests, offer them practical solutions, and help them cut costs to maximize their resources.
When you work with us, you can turn your back on that dated and uninspiring bathroom and look out to an oasis with heated floors and high-end showerheads.
Let's face it. The condition of your bathroom is different from where you would like it to be, and you are entitled to have something more satisfactory. When you first envision the idea for your dream bathroom, our skilled tradespeople will guide you through the process to end up with the one you envisioned. Because of the compelling manner in which we carry out our work, we will leave the remodeled space in your bathroom looking organized and tidy both during and after the completion of the project.
We are also aware that participating in the transformation would give you the most incredible sense of accomplishment and pride you could experience.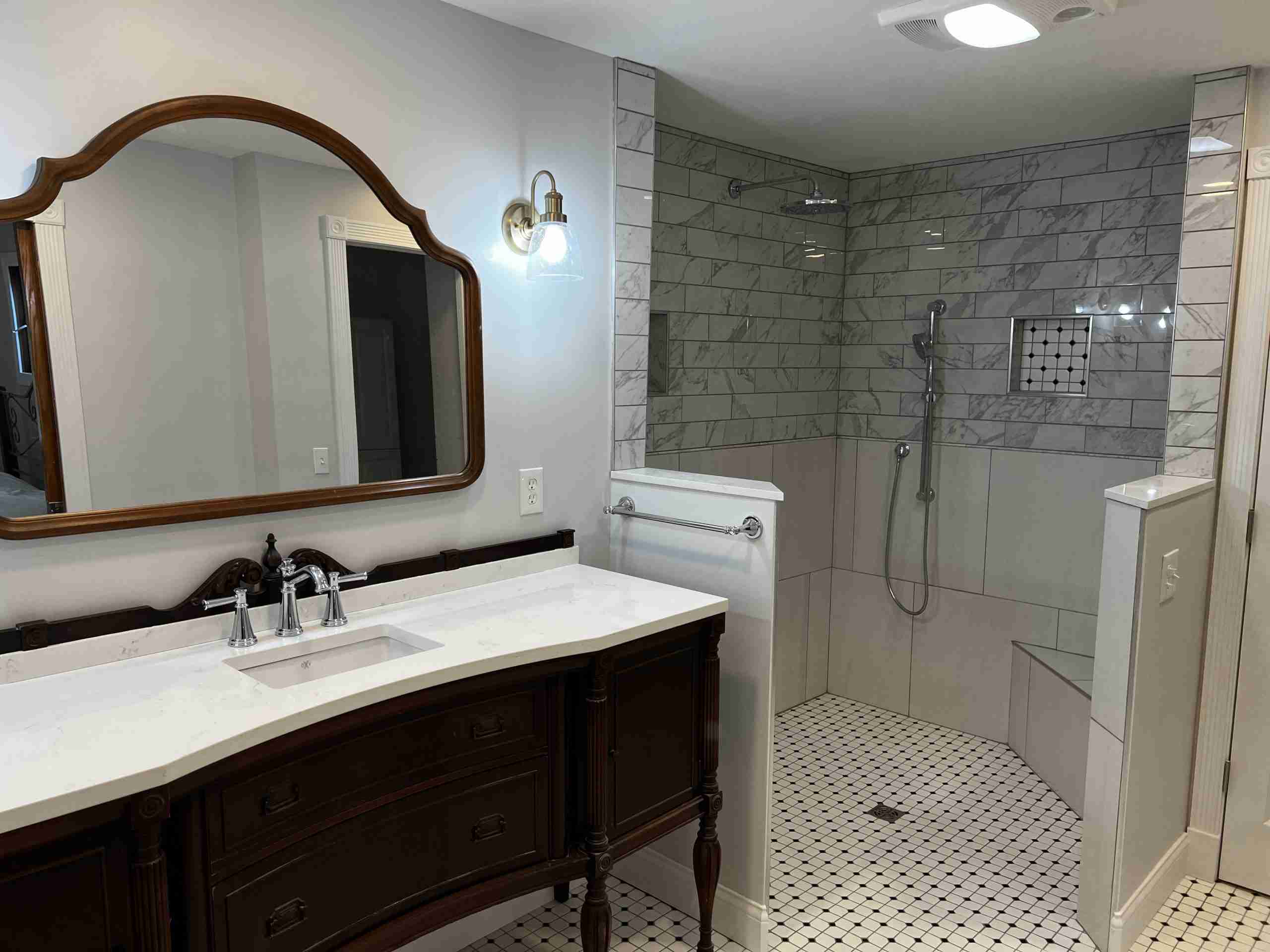 You will be provided with a briefing and allowed to work with a design expert as we get closer and closer to turning your vision into a reality. Take part in the process, which includes the development of designs and the construction of structures. Our best teams can perform any installation work in addition to other kinds of work without lowering their standards or sacrificing the quality of their work. You will be able to watch the entire process, starting from the beginning and continuing through the completion of the project.
Suppose you believe remodeling a luxury bathroom into a smaller one is impossible. In that case, we have a pleasant surprise in store for you. Regardless of your bathroom size, our highly skilled professionals possess the knowledge and the ability to turn it into the bathroom of your dreams. It is true regardless of the level of training they have received. We will do everything with our skills to help you recognize the potential of your existing space to upgrade into a more attractive bathroom design. We will present you with several options. 
Our professionals will carefully consider your recommendations, help guide your decision-making process, and provide an initial estimate of costs. We will concentrate our efforts on achieving your objectives while remaining mindful of the constraints imposed by your budget. You will also have access to a project manager responsible for directing the work and keeping you updated on its progression. The manager is responsible for both managing the project and responding to any questions or concerns you may have about it. Even if you're absent, the project manager will update you on your progress.
When the work crew arrives at your home, the first thing they will do is clear out all of the features that are currently there. It will be their first order of business. Next, you will have the opportunity to watch as the dated bathroom transforms into the bathroom of your dreams. The next step will be reconstructing the bathroom using components and appliances of the highest possible quality. Even though the remodeling process is dusty and disruptive, we will do everything in our power to keep the mess and dust from the activity contained in the remodeled area.
Never hesitate to call Remodel Me Today for inquiries and help; we are here for you.